Ask Me Anything: The VIX & Covered Calls
Mark's Watchlist
Royal Carribean Cruises Ltd. (NYSE:RCL): $83.46 (-1.39%)
Travel is back – and with it, so are cruises. I'm keeping a close eye on RCL – it's home to the world's biggest cruise ships, after all. And over the past five trading days, the stock has risen 8%.
ARK Innovation ETF (NYSEARCA:ARKK): $106.40 (-0.18%)
It's the second day in a row on the Watchlist for Cathie Wood's ETF. ARKK is seeing a surge – up over 6% since Wednesday. Is it because the ETF is strong? Absolutely not. I stand firm on my forecast for ARKK. Instead, I think we're seeing a mini short squeeze – and we can expect to see upside in some of ARKK's holdings soon.
AT&T Inc. (NYSE:T): $29.89 (+0.84%)
We started the week with T – and that's where we're ending it too. I'm watching today's rally to see if we're looking at real strength or – what I suspect – a dead cat bounce.
---
Ask Me Anything: The VIX & Covered Calls
Yesterday, I told you all about my VIX traffic light system.
To recap, the VIX is what I use to measure volatility in the market.
When my traffic light is green, that means volatility is set to go up. When it's yellow, that means a strong move is expected in either direction. And when the traffic light is red, that means volatility is likely to drop.

Today, my VIX light is green.
Here's the thing – we have yet to break the pattern of vol remaining high. Since hitting a monthly high of 27.59 on May 12, the VIX has yet to fall below 18. The market may have risen since then, but volatility remains around 20.
Until I see the VIX get pummeled down to 17 or less, I don't trust this market – and neither should anyone trading it.
Yesterday, I received a great question regarding the traffic light indicator system – and how to use it when hedging, or protecting your positions.
Sign up for SMS so you never miss special events, exclusive offers, and weekly bonus trades
So today, I'm going to answer another round of questions straight from Profit Takeover readers. And we're talking more than just the VIX.
Reader Mike was clearly paying attention to yesterday's article. And he wants to know – when a positive move in the VIX is expected, what's a good strategy to play that movement?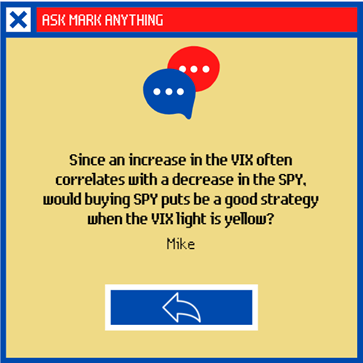 I like where your head's at, Mike. Essentially, you want to know…
Where's the money? And when the market is going down, yes, that's a good opportunity to use puts.
But a yellow VIX light doesn't necessarily mean volatility is headed up. I wouldn't go "all in" on shorting the market until the VIX light goes green – that means you can expect volatility to increase.
Instead, when the light is yellow, I put hedges on, covering just a small part of my trading while remaining long overall. That's because a yellow light doesn't necessarily mean a jump in one direction. It typically leads to more crazy up and down moves instead.
Next up, we have a question from Richard. He's been buying and holding stocks for years now, but wants to get started trading – and he wants to know if there are any option strategies that can help out his stock portfolio.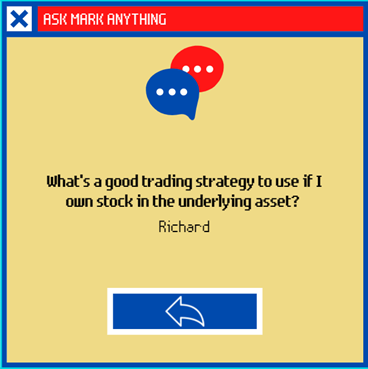 The first trade that investors like Richard typically begin with is a covered call.
If you're long a stock, you can sell an upside call against the position. This trade will create yield for the position on top of any dividend it pays. Essentially, it's a way to multiply your income on a stock position.
But be careful. You want the stock to rise – but if it rises too fast, the long stock position can be "called away." And then you lose your stock!
If you have a question that you'd like to be featured in Profit Takeover, then click here. I love hearing what you all have to say.
Remember… I'm here for you. To show you how to take the financial power into your hands – where it belongs.
---
Today's Impact Money Trade
And now it's time for your regular injection of impact money — institutional-level option trades that indicate the Wall Street fat cats are watching.
Roblox (NYSE:RBLX) shares are surging today, last seen 8.2% higher and flirting with new all-time highs above $82.
It looks like some heavy-hitting traders are expecting even higher highs for the gaming concern — and SOON — buying up weekly 95- and 100-strike calls expiring Friday, June 4. By doing so, they expect RBLX to top $95 and even $100 in the short term.

Click To Enlarge
RBLX today – courtesy of Trade-Alert
Because I'm hunting for that
two-factor authentication
— stocks attracting the money of both the Davids (retail traders) and the Goliaths (institutional traders) — I'll be keeping tabs on RBLX.
And that's all for this trading week, folks. Keep an eye on your inbox – we're diving right back in Monday morning.
Good trading,
Mark Sebastian
---
Comments